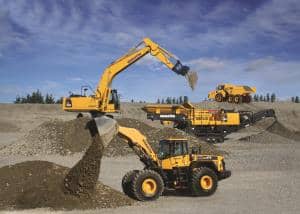 WHO WE ARE
Komatsu is a global manufacturer and distributor of earthmoving machines. As an industry leader we strive to deliver safe and innovative solutions that best meet your needs and expectations. Komatsu is proud to offer a breadth of earthmoving solutions for the utility, construction and mining industries, backed by state of the art diagnostic equipment, well-equipped facilities and technologically advanced systems.
Throughout its history, Komatsu has established a reputation for products that combine innovation and technological advances, with industry-leading levels of reliability, durability and productivity. Its aim is to ensure the lowest total cost of ownership for customers, taking into account initial purchase price, hourly operating costs and resale values. Komatsu's technological developments are at the forefront of solutions for the challenges – and opportunities – facing the construction, utility and mining industries, across such issues as site, machine and operator safety, reduced environmental impacts and skilled operator shortages, through to project time and cost constraints and increasingly sophisticated project management requirements.
GENUINE PARTS
When you invest in Komatsu, you are buying into a wealth of expertise and our promise of quality products, services and commitment. Komatsu parts are manufactured to the Komatsu Engineering Standard (KES) – an in-house standard that in many cases exceeds the requirements of the relevant ISO, JIS and DIN standards. KES also applies to every Japanese-built Komatsu replacement part – a standard that aftermarket suppliers do not have access to. Genuine Komatsu parts are designed for ease of fitment and meet the original factory specification.
Aftermarket 'fit for purpose' parts simply aren't built to KES – and although they may look identical, the critical elements are in the detail. Delivering market best-practice customer service and parts support is a cornerstone of Komatsu's commitment. All Komatsu parts are made in Komatsu factories worldwide - so no matter where in the world your Komatsu machine is manufactured, it is always Made in Komatsu.
Productivity, reliability and safety are built into every Komatsu utility, construction, quarry and mining machine.